In the last year, I've become more interested in doing my makeup, and doing it right. In addition to being application challenged, I've always balked at the cost of makeup as well.
I'm all about saving money, while still achieving fantastic results. Whether you're just starting your makeup journey, or you're looking for some inexpensive drugstore alternatives to your favorite high-end products, help has arrived. I'm no expert, but sometimes a non-expert will give you more honest tips than an expert (at least that's what I told myself to trick myself into thinking I had enough credibility to write this article).
---
Tools of the Trade
Top tips from real makeup artists seem to include having an array of brushes, blenders, and sponges on hand. I'm semi-clueless on these fronts because I prefer to use my fingers to spread, blend and smudge my makeup. However, I do have a few tools at my disposal.
bareEscentuals Full Flawless Face Brush ($28) – bareMinerals.com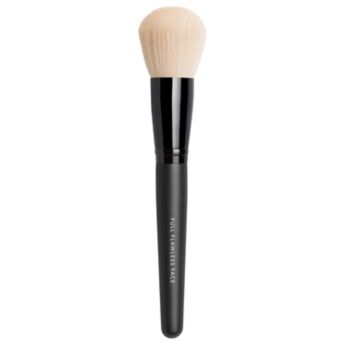 So this *slightly* breaks the drugstore theme of the post, but in my defense I got this brush in a bareMinerals Christmas gift set somewhere between eight and ten years ago. I wasn't sure if they still sold this type of brush, but according to the website, they do. Some drugstores do carry bareMinerals products, including CVS, some Target locations, and for locals, some Giant Eagle stores.
This is a bit pricey for a face brush, so if it's not in your budget, look for something wide and rounded to cover areas like your forehead and cheeks.
bareEscentuals Heavenly Eyeshadow Buffing Brush ($6.21) – Amazon.com
This brush has been discontinued by the official bareMinerals company, but it's still available on Amazon. The most comparable brushes on the bareMinerals site run from $16 to $18.
Out of all the brushes and blenders, I use this one the most to blend and smudge eyeshadows. It has short bristles and a flat, circular top.
bareEscentuals Precise Eyeliner Brush ($15) – bareMinerals.com
I think $15 is a steep price for such a small brush, especially one that won't get much use if you don't use powdered eyeliner. For a less expensive, comparable brush look for something with a small, fine tip. I don't love this brush because the bristles have separated and the stray ones create unwanted straggly lines when you use it. However, there could be times when it comes in handy.
e.l.f. Blending Sponge ($6) – Target
I haven't gotten the hang of using this. The instructions say to dip it in foundation and then dab it in small pats on your face, but that hasn't worked. I still spread foundation with my fingers, then use this to blend around my nose, eyes, jawline, and hairline.
The instructions also say to wet the sponge first to use less product and create a dewy effect. I'm not sure if it does either of those things, but adding water will expand the sponge, and even when it dries it will not shrink back to original size.
Wet n Wild Dual Pencil Sharpener ($0.94) – Target
If you choose an eyeliner or lip pencil that needs sharpened, you have to have a makeup pencil sharpener. I don't know what brand mine is, and I don't know where it came from.
I'm partial to a dual sharpener. If you have eye pencils and lip pencils you can have one sharpener for each product, and/or you have the advantage of having two different sized sharpeners in one tool for varying pencil thickness.
This Wet n Wild sharpener was the least expensive at Target.com, demonstrating that you don't have to go broke to get the right tools.
Neutrogena Makeup Remover Cleansing Towelettes ($8.99 for a 2 pack) – Target
Whether you made a mistake you need to clean up, or you just need to take off all your hard work at the end of the day, Neutrogena Makeup Remover Cleansing Towelettes are the easiest way I've found to make both of those things happen. The towelettes are especially good for getting off stubborn eye makeup, cleaning up lipstick that's gone outside the lip line, and cleaning off your hands after applying foundation.
The cloths are soft, and they can be used for a two or three days before they dry out. Neutrogena also has a fragrance free towelette option, if you have sensitive skin. I didn't know that until I started doing research for this post, and I might try out the fragrance free option the next time I run out.
Tools Total: $65.14
---
Face Essentials
I have a love/hate relationship with foundation. Liquid is thick, heavy, caky, and pore-clogging. Powder doesn't stick or give full enough coverage. And I always wind up picking the wrong color.
Recently, I've found products that don't make my face feel itchy and heavy throughout the day.
COVERGIRL truBlend Foundation ($7.89) – Target
COVERGIRL truBlend is a creamy liquid foundation. It glides on smooth (with fingers; it might not glide as smooth with other applicators), and doesn't feel itchy or caked on throughout the day.
The best part about this foundation line is the color range. There are 21 different shades broken down into three categories: light, medium and dark. I've been using L3, Natural Ivory. I've also used L2, Classic Ivory, in the past. The difference between the two is that L3 has more of a pink base, and L2 has more of a brown base. I have more pink in my skin tone so the L3 will be my go-to from now on.
COVERGIRL Vitalist Healthy Setting Powder ($9.74) – CVS
I just started using powder. I have problems with my eyeliner sliding down the sides of my face by the end of the day. I read online that powder could stop this from happening.
The Vitalist Healthy Setting Powder comes in three shades of beige and Classic Ivory (710), which I use.
The powder did its job and stopped eyeliner from sliding all over my face at graduation last weekend, but even in Ivory, the color has brown undertones and is too dark for my face. COVERGIRL does have a TruBlend Pressed Powder, which I might try when this kind runs out, because it comes in more shades and I might be able to find one to closer match my skin tone.
I got the Vitalist Healthy Setting Powder at Target, but it's not available at Target.com.
Revlon PhotoReady Primer ($7.49) – Target
What does primer do? I don't know! Supposedly primer gives you a clean base for your foundation and gives you an overall finished, polished look. Does it do that? I think? I was more pleased than usual with my graduation makeup, and used both powder and primer for the first time on that look.
The Revlon PhotoReady line has three different primers: Perfecting Primer, which is the one I use; Pore Reducing Primer, for dullness; and Brightening Primer. The Pore Reducing and Brightening Primers are more expensive ($11.99 each) for reasons unknown.
L'Oreal Paris True Match Crayon Concealer ($7.29) – Target
At some point I started to get dark circles under my eyes. I used to think it was leftover eyeliner that I didn't wipe away, but I eventually had to admit the stains were dark circles, and were permanent. Can I blame getting a Master's Degree while working full time? Can I blame teaching middle schoolers? Can I blame the sad, slow slide into adulthood? I don't know. But what I do know is the Crayon Concealer works.
This concealer comes in six shades of neutral and warm. I use the lightest shade, Fair/Light Neutral N1-2-3. I put it on under my foundation, which I've read is frowned upon, but the crayon and foundation colors aren't an exact match, and I found they blend better this way.
I also read the most effective way to cover dark circles is form a triangle under your eyes, drawing lines from the ends of your circles down to your cheek bones, and then fill in the space between them. This technique has worked so far.
N.Y.C. New York Color Concealer Cover Stick ($1.99) – NewYorkColor.com
This cover stick is great for spot treatments. When I have raised bumps or pimples on my face, and I do the whole concealer, foundation routine, the bumps are still visible. It's like I didn't even do anything. Maybe it's because I have such fair skin. I don't know. I use this to do extra spot treatments on bumps, with and without other makeup.
Drugstores like Target and Rite Aide sell N.Y.C. products, but on the N.Y.C. website they advertise only Wal*Mart as a retailer. NewYorkColor.com advertises this product at $1.99, but Wal*Mart is selling it for $2.93. There is also a green Concealer Cover Stick that is supposed to be good for red bumps and splotches, but that one never worked for me.
COVERGIRL Cheekers Blush ($3.39) – Target
I don't use blush often because I have a naturally pink, blushed complexion. However, I like COVERGIRL Cheekers Blush when I want to add an extra pop. The powders are lightweight and easy to apply with the included brush, or with a different brush of your choice.
This blush comes in 17 different colors, in varying shades of pinks and browns. I use Cinnamon Toast (156) for a brown and Classic Pink (110) for a pink. When I apply, I suck in my cheeks to find my cheekbones. Recently, I've been using the Cinnamon Toast as a bit of a contour, running it under my cheekbones for definition, and then using the classic pink on the apple of my cheeks if I want some additional color.
COVERGIRL also makes a Cheekers Bronzer, which I've used but is too dark for my skin. Don't confuse the two: the blush comes in black packaging and the bronzer comes in an orange gold packaging.
Face Total: $37.79
---
The Eyes Have It
Eye makeup is my favorite makeup to do. Eyes are where you can experiment, go bold, go neutral, or pick something to match an outfit or theme. If I'm leaving the house, my eye makeup will be done, even if I don't do anything else.
Maybelline Eye Studio Master Prime ($6.99) – Target
I don't know what primer does, but this is primer specifically for your eyes. It's dewy and goopy, but it keeps my eyeshadow on all day. There are two kinds of Eye Studio Master Prime, Illuminate and Matte. I use the Illuminate, but I'd be interested to see what the difference is with the Matte. It looks darker in color, but I can't see any other obvious visual differences in images without buying it and trying it out.
Maybelline Eye Studio Lasting Drama Waterproof Gel Eyeliner Pencil ($5.99) – Target
This is the first gel eyeliner I've ever used. I purchased it as a backup option because my usual go-to was sold out. I was surprised by how easy it glides across the lid, and how precise it makes wings, when sharpened. A downside is that this pencil requires sharpening, and the tip dulls fast. I like a fine point for close application so I sharpen a lot.
The Lasting Drama Eyeliner comes in 10 shades. I use Sleek Onyx (601) because I love the definition of classic black, and because, surprisingly, other shades like grey, blue, and purple don't *pop* on my fair skin.
Eyeliner is the most essential tool in my makeup kit, so I'm listing additional eyeliner options below that I use on a less frequent basis, but still like to keep in stock if possible.
Maybelline Unstoppable Eyeliner ($5.59) – Target
This was my old go-to before using the Lasting Drama pencil. It's a crayon liner that doesn't require a sharpener. However, it does break easily. It also doesn't glide across the lid as nicely as the Lasting Drama pencil. I'd still consider this a must-have or a go-to product, especially in a pinch.
This product comes in five colors, all dark. I use Onyx (701).
N.Y.C. New York Color High Definition Liquid Eyeliner ($3.99) – NewYorkColor.com
I rarely use liquid eyeliner. I don't have a steady hand, and liquid shows all mistakes. Plus, if it gets in your eyes it burns. However, the marker tip on the N.Y.C. High Definition liner is perfect for wings. You don't even need to draw them on. You can lay the side of the tip against the corner of your eye and press down for the perfect wing. I use this trick when I want a more defined wing, and I pair the liquid liner with my regular liner for full coverage.
The High Definition liner comes in one color, Extra Black (889), and is sold at NewYorkColor.com. According to their site it is also available at Wal*Mart, but as an in-store only purchase. No word if there is a price difference on this product like the cover stick. And, as with the cover stick, N.Y.C. makeup is stocked at some Rite Aids and Targets so you can check those stores too, but this product is not offered at either of those retailers online.
Maybelline Nudes Eye Shadow Palettes ($7.59 – $11.99) – Target

Naked palettes may be all the rage, but Maybelline Nude palettes do the same thing for a much lower price. Each palette has 12 colors, and a chart on the back shows you how to use them in quads, trios and duos. You can get up to 13 different looks with each palette.
There are four different types of Maybelline Nude palettes: The Nudes, which includes the basic colors you would expect from a nudes palette: browns, whites, golds, creams, and beiges; The 24K Nudes, which includes more jewel tones like purple, brighter golds, some peaches, and more sparkle-infused shades; The Blushed Nudes (pictured), which is primarily pinks, peaches, and browns; and The Rock Nudes, which has darker blues, browns, blacks and purples, and glittery shades. The only palette I don't have is The Nudes. The Blushed Nudes and Rock Nudes are my favorites.
I use the Blushed palette on a everyday basis because it's a lighter, brighter daytime palette. I use the Rock palette when I'm going out at night. I don't use the 24K palette as much.
Target seems to have the lowest prices for the palettes, though they don't carry the Rock palette online. On Maybelline.com the palettes are priced at $11.99, which is the high-end price you see in the description. I got my Blushed Nudes palette at Giant Eagle, and the 24K and Rock palettes at Wal*Mart.
Maybelline Eye Studio Color Plush Silk Eye Shadow Quad Palette ($9.44) – Wal*Mart
If you're overwhelmed by a 13-color palette, or just want something simpler for an everyday product, Maybelline still has you covered. You can use this palette as a quad, trio, duo, or single, based on how dark or defined you want your look to be.
According to Maybelline.com, this Color Plus palette comes in 11 different styles, but on Wal*Mart.com there are colors available that are not shown on the Maybelline site. I use the Purple Icon (30) palette
I also find it hard to believe that the 24K Nudes palette at Target can sell for $7.59, and a quad palette can go for $9.44. I know I got this palette at Target, so you might be able to find it in-store for less, but it is not sold at Target.com.
COVERGIRL Katy Kat Eye Mascara ($6.89) – Target
Say what you want about Katy Perry's music, style, behavior, dating life, or feud with Taylor Swift, but her mascara is perfect. I have decent length lashes, but darkening and defining is a must when going for a polished look. Until I used Katy Kat Mascara I never got the definition I wanted.  The brush is a helix style, and the clumping stays at a minimum.
Katy Kat Mascara comes in two colors, Black and Very Black. I use Very Black (800). There is also a waterproof and a non-waterproof version of both colors, and I use the waterproof. I'll take any help I can get to keep my eye makeup from sliding and smearing throughout the day.
I do notice this mascara going bad faster than other products. Whether that is just this brand of mascara, or mascara in general, I'm not sure. I know once it starts to make my eyes itch it's time to get a new tube, which is usually before the first tube is even half finished.
Eyes Total: $50.88
---
Lip Service
I can't stand having dry lips. I wore lip gloss, and Lip Smackers for years because I hated dry lipstick. I tried lip stain in an effort to avoid the dryness, and wound up looking like the Joker. It's been a long, hard road, but I've found products that keep my lips moist, bring pops of color, and don't turn me in to a comic book villain.
Revlon Ultra HD Matte Lipcolor ($7.29) – Target
For years I thought Matte meant flat, dry, and boring. That is, until I got Revlon Ultra HD Matte Lipcolor. The brush on the applicator wand is soft, and shaped perfectly for lining a Cupid's bow. The liquid goes on smooth, doesn't clump and wipes off easily with little staining if you color outside the lines.
The Ultra HD Matte line comes in 16 shades of pinks, reds and browns, and the Metallic Matte line comes in eight shades that include nudes, purples, and blues. I have three colors from the Ultra HD Matte line: HD Devotion (600), HD Addiction (610), and HD Passion (635). Devotion is a light pink color that's great for everyday use. Addiction is a magenta or mulberry color. Passion is a red color.
There is some discrepancy in price. The Revlon website says Target sells the Ultra HD Matte line for $5.89, but Target.com says they retail for $7.29. The price might vary by color.
Philosophy High-Gloss, High-Flavor Lip Shine ($5 – $10) – Philosophy.com
I didn't purchase my stash of Philosophy lip glosses. One of the perks of being related to a teacher is inheriting all the leftover, duplicate, and unwanted teacher gifts from Christmas and the end of the year.
The tubes are made from flexible plastic, and don't come with applicators. The liquid comes out of a hole in the pointed part of the tube and goes straight onto the lips. The gloss is sticky, so if that's not your thing you might want to steer clear of it, but if your into gloss with sweet treat flavors you'll love it.
I'm unsure of how many flavors of lip shine Philosophy offers, but based on their website it's somewhere between six and seven. Philosophy is a higher-end brand that's carried at Ulta, Sephora, and Macy's. However, it's also stocked at Wal*Mart, CVS, and Walgreens.  The lip shines, specifically, are stocked at Wal*Mart. I use the Pink Marshmallow Buttercream and Fresh Cream flavors, which are white in the tube and go on clear. Some of the lip shines are pink but I'm not sure if they have tint when applied.
The price point on the glosses differs. The majority of glosses on Philosophy.com and at Wal*Mart cost $10, but some have been discounted to $5 or $6, possibly the flavors that are soon-to-be discontinued.
bareMinerals 100% Natural Lipgloss (Price Unknown) – Amazon.com
Clearly, my bareMinerals products are outdated. bareMinerals.com doesn't stock the 100% Natural Lipgloss anymore, and Amazon.com is sold out. The closest comparable product on the bareMinerals website is the Gen Nude Buttercream Lip Gloss, which is listed at $18. Like Philosophy, bareMinerals is a higher-end brand sold at beauty and drugstores. Like with any name-brand product, you'll pay a higher price for the name alone.
The Natural Lipgloss has a wand applicator with a bristle brush on the end. I prefer the solid applicator of the Revlon Ultra HD Matte lip color, but the Natural Lipgloss brush isn't a hindrance. The Natural Lipgloss is sticky, and can get gloppy and drip off the brush.
The Natural Lipgloss is pink and does have tint to it. It's also slightly flavored. I have Strawberry Creme and Sugared Strawberry. The Strawberry Creme is a lighter colored pink.
Maybelline Baby Lips Moisturizing Lip Balm ($2.99) – Target
If you want color without a lipstick, and moisture without the stickiness of a gloss, Baby Lips could be your perfect solution. Baby lips comes in five shades, including a clear. I have Pink Punch (25) which is a light pink color. Baby Lips are slightly fragranced.
The downside, for me at least, is that the top is flat. I like lip products with applicators or tips that come to a point to make it easier to trace a Cupid's bow. The flat top is great for the bottom lip but is useless on the top.
Black Tie Market Vanilla + Arabica Lip Balm
I think this company went out of business, but I'm going to sing their praises anyway, in case somehow the demand gets so high that they have to supply. This balm is so moisturizing. The Vanilla + Arabica smells and tastes like coffee, of which I'm not usually a fan, but whether you like coffee or not, this is a good flavor.
The Vanilla + Arabica Lip Scrub is also amazing, even better than the balm. Both are pictured.
Lip Smackers ($8.79 for an 8 pack) – Target
Whether you're 8 or 80 the novelty of Lip Smackers never wears off. Who doesn't want to moisturize to the taste of Vanilla Coke, Pink Lemonade, or Maple Bacon? Lip Smackers has too many flavors to list here, but they have a comprehensive flavor glossary on their website. I have Pink Lemonade, and three shimmer Disney Princess flavors: Tangy Jelly Bean (Belle), Buttercream Dream (Aurora), and Courageous Raspberry (Cinderella). I used to have more flavors, including a Christmas tin set, and Dr. Pepper, and I would start collecting them again if I had more storage space.
Most Lip Smackers come in sets now, but you can also order them by the tube at LipSmacker.com for $2.50 each.
ChapStick Classic Skin Protectant Lip Balm ($2.99 for a 3 pack) – Target
Because you can't go wrong with a classic. Katy Perry wouldn't have written a song that included Cherry ChapStick if it didn't work as advertised.
Lips Total: $32.06
---
The Grand Total
If you purchased all the items here at the high-ball price, minus those that have been discontinued, you would spend around $185.87. Almost $200 for stuff you put on your face and take off at the end of the day sounds expensive, but let's put it in perspective. For products comparable in packaging style, quality, functionality, and color at Sephora and Ulta, you would pay much more.

Sephora Breakdown:
Grand Total: $481 (You Save $295.13 by shopping drugstore!)
Tools: $105
bareMinerals Full Flawless Face Brush – $28
bareMinerals Perfecting Foundation Brush – $28
Make Up For Ever 250 Extra Fine Eyeliner Brush – $18
Sephora Collection Total Coverage Sponge – $12
Benefit Cosmetics All-Purpose Pencil Sharpener – $5
Clinique Take the Day Off Micellar Cleansing Towelettes for Face & Eyes (50 Towelettes) – $14
Face: $147
Too Faced Born This Way Foundation – $39
Sephora Collection MicroSmooth Baked Foundation Face Powder – $22
Smashbox Photo Finish Foundation Primer – $16
Josie Maran Argan Creamy Concealer Crayon – $20
Sephora Collection Make No Mistake Foundation & Concealer Stick – $20
NARS Blush – $30
Eyes: $163
Smashbox Photo Finish Lid Primer – $21
Smashbox Limited Edition Always On Gel Liner – $18
Stila Smudge Stick Waterproof Eyeliner – $22
Sephora Collection Stylographic – Classic Line High Precision Felt Liner – $14
Urban Decay Naked3 Palette (12 Blushed Shades) – $54
Kat Von D Shade + Light Eye Contour Quad – Originally $22, On Sale for $15
bareMinerals Lash Domination Volumizing Mascara – $19
Lips: $66
Hourglass Opaque Rouge Liquid Lipstick – $28
Sephora Collection Colorful Gloss Balm in Balm Diggity (00) – $8
bareMinerals GEN NUDE Buttercream Lipgloss – $18
Sephora Collection Lip Balm & Scrub – $6
Sephora Collection Sweet Balm (x2 to compare with Lip Smackers & ChapStick) – Originally $6, On Sale for $3 x2 = $6
Ulta Breakdown:
Grand Total: $254.90 (or $248.89 with the less expensive sharpener) (You save $69.03 or $63.02 by shopping drugstore!)
Despite carrying drugstore brands, Ulta does NOT carry all the same products as regular drugstores.
Tools: $75.49 ($69.48 with the less expensive sharpener)
bareMinerals Full Flawless Face Brush – $28
It Brushes for Ulta Airbursh Precision Smudger Brush – $12
Ulta Pointed Liner – $10
e.l.f. Cosmetics Blending Sponge – $5
Lancome 2-in-1 Pencil Sharpener – $8 (This is a more expensive model, but I think it is the one I have. The blades say "Made in Germany" on them and so do mine. Additionally, this model is comparable in looks to the Wet n Wild option from Target. The least expensive dual sharpener Ulta offers is $1.99)
Neutrogena Makeup Remover Cleansing Towelettes Twin-Pack – $12.49
Face: $54.94
L'oreal True Match Super-Blendable Makeup (in 32 Shades) – $10.99
COVERGIRL Vitalist Healthy Powder (Online Only) – $11.99
Revlon PhotoReady Primer – $13.99
L'oreal True Match Super-Blendable Crayon Concealer – $9.99
Essence Coverstick – $2.99
COVERGIRL Cheekers Blush (Online Only) – $4.99
Eyes: $55.92
Maybelline Master Prime Long-Lasting Eyeshadow Base (In-Store Only) – $1.97
Maybelline Eyestudio Lasting Drama Waterproof Gel Pencil – $7.99
Maybelline Unstoppable Eyeliner – $7.99
Ulta Classic Felt Tip Liner – $9
Maybelline 24K Nudes Eyeshadow Palette – $11.99 (The Nudes was also $11.99, Blushed was $10.99, and Rock was not listed.)
COVERGIRL Eyeshadow Quads – $7.99
Katy Kat Eye Mascara (Online Only) – $8.99
Lips: $68.55
Revlon Ultra HD Matte Lip Color – $9.99
MAC Clear Lipglass – $17.50 (There were less expensive options, but this is the only non-applicator, tube-only gloss in clear).
bareMinerals Gen Nude Buttercream Lip Gloss – $18
Maybelline Baby Lips Moisturizing Lip Balm – $3.99
Burt's Bees Lip Balm – $3.29
Burt's Bees Beeswax Lip Balm 4 Pack (Online Only) – $9.99
Burt's Bees Pink Grapefruit Lip Balm 2 Tubes (Online Only) – $5.79
By shopping drugstore, you can save a significant amount of money in the long run. Use the chart below to see how far you can stretch the shelf life of your products. Most items can last for up to a year or more before they need replaced (though I don't follow those rules. That Pink Lemonade Lip Smackers is from sixth grade, and the number of discontinued products on the list should give you a clue as to how often I throw out unfinished makeup).
SaveSave
SaveSaveSaveSaveSaveSave
SaveSave